Cured meats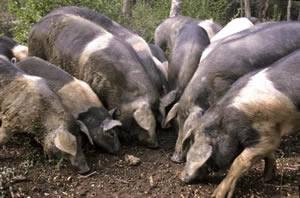 Prosciutto Toscano Dop, Dop Tuscan Ham is produced on a large-scale in the area of San Gimignano. Ham, which is dried salted using sea salt, pepper and typical Tuscan natural seasoning, has an intense perfume and taste and it is perfect foil with the unsalted traditional Tuscan bread. Excellent as a starter, it can also be served as a main course accompanied with Vernaccia (aged for at least one year or Riserva). Info at www.prosciuttotoscano.com.

Spalla (shoulder ham) also has an important role in the local gastronomic tradition and is prepared as the ham.

Salame toscano, Tuscan Salami is produced with the most valuable parts of the pig, and can be easily recognized thanks to the cubes of fat chopped coarsely and cured with a strong mix of pepper and spices. Finocchiona is very similar to salami, but with a smoother mixture, enriched with seeds of fennel (finocchio), which gives the name to this particular type of salami. Perfect foil with "baccelli" (fresh beans) for a good merenda (afternoon snack), accompanied with a glass of chilled Vernaccia.

To be mentioned, a large choice of wild boar cured meats, poorer of fat and with an intense, aromatic flavour.

Soprassata is traditionally produced with the less valuable parts of the pig - the toughest, but the most savoury ones - boiled and seasoned. It is wrapped in a jute cloth and seasoned with salt, pepper, nutmeg, lemon peel. The recipe can vary according to the taste of the producer. Another traditional product is buristo, a type of salami where pork blood is cooked with meat and cubes of fat. To be mentioned salsiccioli, traditional sausages to be tasted grilled or with beans (fagioli all'uccelletto).

Cinta senese (white-belted breed pig) is unique to this region and documented in many medieval frescoes and paintings (including in the Painting gallery of San Gimignano). Almost extinct, the population started to increase ten years ago and Cinta Senese is now raised in the area of Siena thanks to the commitment of some keen growers. White belted pigs grow in open fields and woodlands, their diet being natural, with a substantial intake of acorns. Their meat is particularly savoury, very good for roasting, excellent for cured meats: ham, salami, bacon, lard. Info at www.cintasenese.org.
Easy Card

Welcome to San Gimignano! Book your holiday through our Booking Online Service,
and you will get your "Easy Card San Gimignano ©" free of charge.
Explore the advantages. Discover