Easy Card San Gimignano ©
You can get the "Easy Card San Gimignano©" free of charge by booking your stay through this online booking service.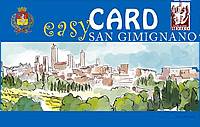 See the accommodation you can book here:
Holiday Homes
Farmhouses
Guesthouses
Historic Houses
Bed & Breakfast
Hotel
How it works
You will get the card via e-mail together with the confirmation voucher of your booking. The card gives you access to discounts in the participating shops and tourist services.
You can either print out the card or save it on your device (smartphone, tablet, etc.)
The card is only valid during your stay in San Gimignano. The validity period and number of persons are indicated on the card
In case you book some extra nights, apply to the lodging you are staying at in order to change the validity period of your card
The participating shops and tourist services will be identified with a special sign at the entrance or inside the shop itself
In order to enjoy the benefits, the card has to be shown before a fiscal receipt is issued
Check the list of participating Shops
Since there might be changes, it is advisable to check the list shortly before or during your stay in San Gimignano

The staff of the Local Tourist Information (Associazione Pro Loco di San Gimignano) is available to clear up any doubts you might have: