Saffron of San Gimignano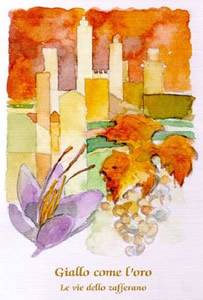 Saffron is a flower (Crocus Sativus), a genus in the family Iridaceae. The English word saffron stems from the latin Safranaum, which in turn derives from Arabic word jafaran, coming from the Persian sahafaran, which itself derives from the adjective asfar, "yellow".

Saffron has had a prime role in the economy of the town. In 1228 the Commune of San Gimignano, compelled to pay the debts undertaken during the siege of Castello della Nera, honured its obligation using no cash, but saffron. Fifty years later, in 1276, like for Vernaccia wine, they put duty on saffron exports.

Saffron cultivation and harvest are a patient and careful activity. Harverst is to be done at dawn, when flowers are still closed, and saffron stigmas have to be dried immediately. 150.000 flowers give 1kg of saffron. Saffron of San Gimignano is cultivated according to organic methods. Chemical products are banned during the whole producing process. Stigmas are packed in threads in order to guarantee the best quality and to preserve the intense and "mysterious" aroma.

The spicy, slightly bitter taste of saffron is unique. Saffron is perfect foil with fish, vegetables, and white meats.
Easy Card

Welcome to San Gimignano! Book your holiday through our Booking Online Service,
and you will get your "Easy Card San Gimignano ©" free of charge.
Explore the advantages. Discover