Strada del Vino Vernaccia di San Gimignano
The Association "Strada del Vino Vernaccia di San Gimignano" was created in July 1999 and it operates since January 2000. The association gathers 70 operators of the agricultural and tourist local market: wineries, agriturismos, restaurants, wine shops and others. Its goal is to promote the typical products and offer visitors the opportunity to discover the local tastes, flavours, and traditional producing processes.

Following the Routes of Wine is an exciting experience for those seeking a direct relationship with the natural and agricultural environment. You will have the opportunity to know our product, to visit our producers directly at their farms, to stay in our holiday accommodations and to taste our typical products.

Tradition, professionalism and passion are our values. Our activity, strongly rooted in a centenary farming culture, but innovated thanks to modern techniques and new means of production, has developed in a region of breathtaking beauty, where landscape is art.
In the last years the town has developed a quality policy in the world of wine and has established itself on the market as a symbol of "made in Italy".
The wines produced in the area of San Gimignano are: Vernaccia di San Gimignano DOCG, San Gimignano Rosso DOC and I.G.T. Toscana, with a total production of 9 million bottles per year, 70% of which is sold abroad, the remaining 30% being sold on the internal market.

The success of the wine is also related to the international appeal of San Gimignano, a town rich in art and history, registered in the list of UNESCO's World Cultural Heritage, with a proven ability in enhancing its treasures. For this reason San Gimignano and its wine deserve a special mention from an artistic point of view as well, thanks to the "Vernaccia di San Gimignano Wine Experience La Rocca" that is the municipal Centre for the documentation and tasting of Vernaccia di San Gimignano wine.
 
Vernaccia di San Gimignano Wine Experience
La Rocca
"Vernaccia di San Gimignano Wine Experience – La Rocca" is the municipal Centre for the documentation and tasting of Vernaccia di San Gimignano wine and local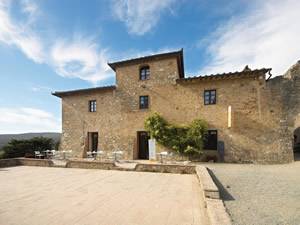 products. The centre was created by Consorzio della Denominazione San Gimignano, a consortium which brings together all winegrowers producing Vernaccia di San Gimignano DOCG, the first Italian wine to obtain the Appellation of Origin in 1966, and it aims to safeguard and enhance the value of the local wine production.
The name of the centre is a declaration of what it aims to be: a place to experience wine directly, which means more than simply tasting it, involving deeper knowledge and emotional contact as well. It represents a unique and original experiment in Tuscany and it is the first organisation managed by winemakers to use the latest technological and multimedia tools to offer visitors an immersive experience.
Wine tasting
Sipping a glass of Vernaccia di San Gimignano before one of Tuscany's most captivating landscapes is an extraordinary experience.
On the ground floor of La Rocca it is possible to enjoy a first-hand experience, that of wine tasting: sixteen different labels of Vernaccia di San Gimignano DOCG and Vernaccia di San Gimignano DOCG Riserva are available for tasting with enomatic dispenser. Visitors can also taste San Gimignano DOC wines in the three types Red, Rosé and Vinsanto, Chianti DOCG and Toscana IGT wines, so as to offer them the entire range of wines produced in the area. Since the wines produced by all the local winegrowers amount to more than two hundred, the labels available for tasting are constantly changing.
Tastings are planned with the assistance of expert sommeliers, who can provide those who are getting acquainted with the local wines for the first time with the basic knowledge. For those wishing to obtain more detailed information, there is the possibility to arrange seminars, also by appointment, where visitors are provided with full information on the wines of the territory and are presented with an assortment of pairings with local products.
The centre also hosts events organised by the Consortium to present the wines in the presence of the producers.
To learn more about production, visitors will find a touch screen with a list of estates producing Vernaccia di San Gimignano, their wines, how to find them and contact them, as well as information on all the typical products of the territory, San Gimignano DOP saffron, Tuscan IGP extra virgin olive oil, Tuscan DOP prosciutto ham and Tuscan IGP finocchiona [fennel salami].
Multimedia Tour
On the first floor of La Rocca visitors can discover the territory of San Gimignano through an immersive and emotional experience. Each room has a different theme: the centuries-old history of Vernaccia di San Gimignano, its poets, the territory, agriculture, the grape harvest and the wine-making process, told through images, lights, sounds, voices, videos, holograms and viewers with 360° videos. Wine isn't simply a beverage, wine is culture, and a glass of Vernaccia di San Gimignano contains centuries of history, traditions, agronomical and winemaking practice, art and the territory, considered as a community of men who work their land, designing it, protecting it and passing it down to the future generations: it is a memory of the past and continuity towards the future, a moment within an evolutionary process which began in the Middle Ages and will continue for centuries.
Information
Vernaccia di San Gimignano Wine Experience La Rocca is open every day from 11:30 a.m. to 7:30 p.m.
Themed seminars are held every day by the sommeliers working in the structure. The seminars can also be booked in advance.
Via della Rocca, 1 -53037 San Gimignano (SI)
N 43° 28' 3.918'' E 11° 2' 32.006''
Tel: + 39 0577 941267
Email: larocca@vernaccia.it
www.vernaccia.it
Easy Card

Welcome to San Gimignano! Book your holiday through our Booking Online Service,
and you will get your "Easy Card San Gimignano ©" free of charge.
Explore the advantages. Discover