Trade and handicraft in San Gimignano
Caffe' Combattenti - Enoteca Corsi

Once upon a time there was in San Gimignano a small cafe', a meeting place for travellers, where one could eat and exchange some talks in company...

The Bar Cafe' and ice-cream shop DEI COMBATTENTI exists since 1924 and it has expanded its businness in opening the CORSI WINE SHOP with some of the best wines but that's not all...
We are just inside the San Giovanni gate: on the left, you will find the caf� and on the right, the wine shop. Here one can taste our real home-made ice cream, a tradition of our family.
The award-winning ice cream with the Siena Ricciarelli biscuit flavour is only one of our specialties, in fact other than the more traditional flavours, one can also find the ice cream made from the saffron flower, cultivated right here in San Gimignano and happy wine-flavoured ice creams recommended by the travel guidebooks, Top Ten and Travel.
In regard to the traditions in these modern times, our Cafe' is also bruschetteria, pizzeria, sandwich and crepe bar, and in our rustic tavern we serve delicious pasta dishes as well as a wide choice of Tuscan cold meats and sheep cheeses accompanied by some great Tuscan wines coming from our wine shop.
In our wine shop, apart from 500 of the most famous wine labels, one can also find a large selection of local specialties, such as Ricciarelli biscuits, Panforte, home-made Cantuccini biscuits, coloured dry pastas, grappa, extra-virgin olive oil, flavoured oils and even some local truffles. We provide you with gluten free products and ice cream.
Thank you for choosing us when coming to visit San Gimignano and we wish you an unforgettable holiday in our beautiful city.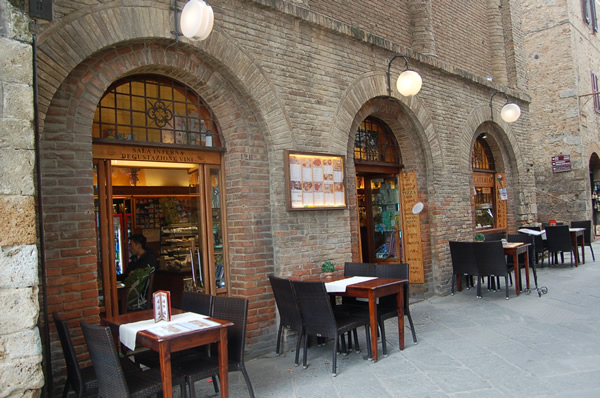 Via San Giovanni, 124 53037 SAN GIMIGNANO
Telephone: +39 0577 940391
Mobile: +39 328 0607267
Email: barcombattenti@libero.it
Photogallery










Easy Card

Welcome to San Gimignano! Book your holiday through our Booking Online Service,
and you will get your "Easy Card San Gimignano ©" free of charge.
Explore the advantages. Discover